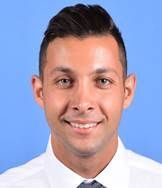 Dr. Kamran Movassaghi




──
Kamran Movassaghi, M.D., is a fellowship-trained joint replacement surgeon specializing in advanced hip and knee replacements. He has extensive training in minimally invasive approaches to hip and knee allowing for expedited recovery after replacement surgery. He also has significant experience performing total hip and knee replacements utilizing computer and robotic navigation, complex revision joint reconstruction, lower extremity deformities and fractures, as well as nonsurgical treatment of the hip and knee.

A Los Angeles native, Dr. Movassaghi attended the University of California, Los Angles for his undergraduate education. He then earned his medical degree from Rush University in Chicago, which allowed him the opportunity to work with their nationally recognized orthopedic department. After completing his orthopedic surgery residency at UCSF Fresno, Dr. Movassaghi underwent an additional year of fellowship training in adult reconstruction at USC-Keck Medical Center in Los Angeles. Throughout his career, he has published or presented over 50 peer-reviewed articles in the areas of hip and knee reconstruction, orthopedic trauma, and quality of life improvement after surgery.

Dr. Movassaghi recognizes the incapacitating effects of degenerative joint disease in the hip and knee and wants to get his patients back to enjoying their life as early as possible. He utilizes the most current research and techniques with a team-based decision-making approach to enhance his patient outcomes to reach their functional goals and optimize quality of life.

Outside of orthopedics, Dr. Movassaghi enjoys traveling, music, and the outdoors. In his spare time, you can find him surfing along the coast or hiking in the nearby mountains.